ventureLAB
Located in Markham, ventureLAB is a leading global founder community for hardware technology and enterprise software companies in Canada. The organization is led by seasoned entrepreneurs and business leaders with decades of industry experience in building IP-rich start-ups, scale-ups, and global multinationals to help businesses scale. ventureLAB is part of one of the biggest and most diverse tech communities in Canada. 
Since 2011, ventureLAB has enabled over 3,000 tech ventures to create over 5,000 jobs and raise more than $340 million in investment capital through initiatives focused on raising capital, talent retention, technology and IP commercialization, and customer acquisition. Together with a community of entrepreneurs, innovators, investors, and partners, ventureLAB enables technology startups to accelerate the commercialization of transformational products on a global scale. ventureLAB is home to the Hardware Catalyst Initiative — Canada's only lab and incubator for hardware and semiconductor-focused companies.
$340 million
in investment capital
3,000+
companies supported
50,000 Sq. Ft.
Innovation space
$7 Million
Prototype & testing lab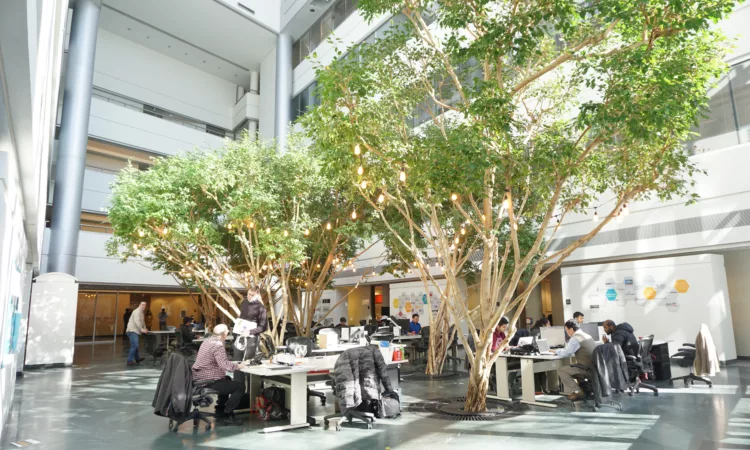 YSpace
YSpace is York University's premier entrepreneurship hub creating positive change by fostering a community of innovators, entrepreneurs, and changemakers. YSpace is home to 15 different entrepreneurial programs supporting entrepreneurs from ideation to scale mode including ELLA, their new national and Ontario's first accelerator focused on supporting women-led product and service-based businesses and the Black Entrepreneurship Alliance program, in partnership with the Black Creek Community Health Centre, offering a full spectrum of support to Black Entrepreneurs and young professionals.

ELLA accelerator
for women-led businesses
11,000 Sq. Ft.
Incubator space
Since 2018
538 ventures supported
$67.5 Million
in investment capital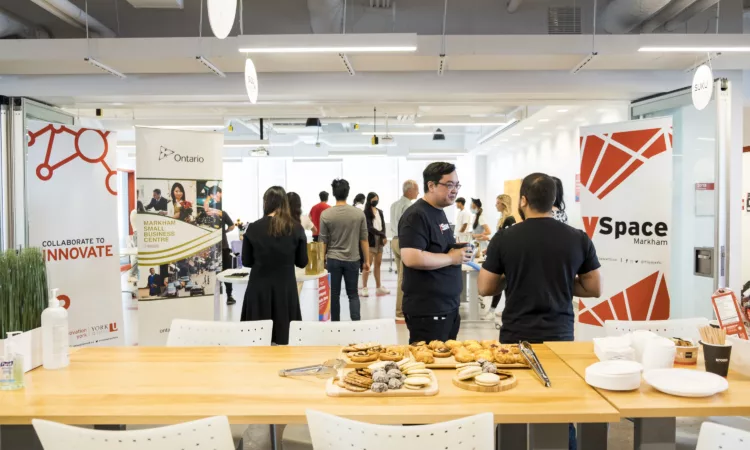 Seneca HELIX
HELIX, Seneca College's innovation and entrepreneurship incubator, invites Seneca students, graduates, faculty and staff, along with members of the community, to explore and develop their entrepreneurial mindset.
HELIX provides the tools needed to design and launch a scalable startup or to innovate from within an existing organization as an intrapreneur.
Seneca College's
innovation hub
Provides
tools for startups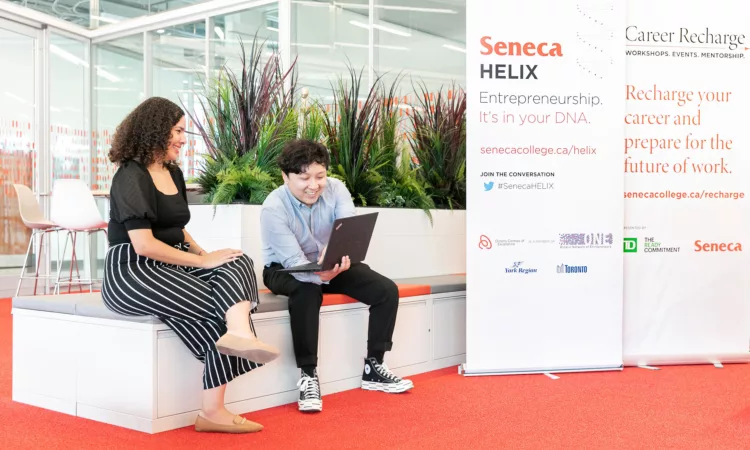 What Businesses
Say About Us
I like being in Markham. It's a tech hub with many things around us — restaurants, entertainment, and great people.
Co-Founder and CEO, The Six Semiconductor Inc.
TD Bank Financial Group is proud to be one of the largest employers in the City of Markham...
Vice President - York Region Commercial Center, TD
We find that there's a lot of great talent in the market, especially engineers for our manufacturing unit. It's good to be in Markham since it's a major tech hub for Canada's blue chip organizations and innovation companies.
SVP of Global Business Development , Vexos
Pond located in Markham because it's a high technology company that needs access to other high technology companies... It's one of the few geographies that affords us the opportunity to do anything we need within a close limited geography of where we're standing.
Get in touch
Markham Civic Centre
101 Town Centre Boulevard
Markham, Ontario, L3R 9W3
Monday to Friday, 8 AM to 5 PM
(excluding statutory holidays)